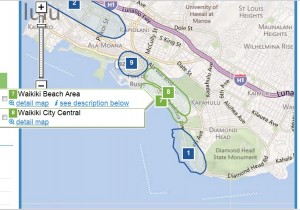 Travelers to Hawaii should check out Priceline if they're going to be staying at a hotel.  I'm currently spending some time in Waikiki and here in part to make it easier to help travelers navigate their way through bidding on hotels in Hawaii.
In Oahu, there's really only 3 main areas around Oahu:
North Shore
Ko Olina
Honolulu and Waikiki
North Shore:  If you see a hotel in this area, it's almost certainly the Turtle Bay Resort.  It doesn't come up often on Priceline so if you see this hotel during your travels, nab it quickly.
Ko Olina:  This is another area on Oahu that doesn't have a lot of hotels, so it's easy to identify your hotel before you bid.  Just look for the "resort" hotel and it's more than likely to be the JW Marriott Ihilani Resort.  See the Priceline Oahu hotel list.
Honolulu Airport HNL – nothing too exciting about this bidding zone.  If you need a place the airport for an early departure or late arrival, there is only a few lower-end hotels that have been reported in this zone (see Honolulu hotel list).  I would avoid this zone if you can, and most people do.
Waikiki:  For most visitors, this is where you want to stay.  In particular, Waikiki Beach is the hub of tourism with fantastic beaches and surf, a great vibe and lots of wonderful shopping.  For Priceline bidding, the 4 bidding zones around Waikiki are:
Waikiki City Central:  This area stretches along the main stretch of beach in Waikiki but you're going to be at least 1 block away from the beach.  If you want a cheaper room and don't mind the walk, this is a good zone to bid.  Hotels range from 2 1/2 stars to 3 1/2 stars.  You're not going to find fancy 4 stars or resorts in this area, but you will find decent prices.
Waikiki Marina Area:  Just west of the main stretch of Waikiki Beach is the Marina.  If you see a resort available on Priceline in this area, it's the Hilton Hawaiian Village.  This is a great hotel and I recommend this for anyone if the price is right, especially those traveling with kids.  If you don't see a resort in this Priceline zone, I would avoid this area.  There are some hotels a short walk to the beach such as the Ilikai (just a short walk to the Hilton Lagoon).
Waikiki Beach:  If you're wanting to stay right on the beach (or across the street) and in the center of Waikiki, this is the bidding zone for you.  Many resorts (such as Hyatt Regency Waikiki Resort & Spa, Outrigger Waikiki on the Beach, Sheraton Royal Hawaiian Waikiki) are available on Priceline, as well as other 4 star high end hotels.
Diamond Head:  The Diamond Head Priceline zone is just to the east of Waikiki and is a nice area for those wanting a bit of distance from the busyness of Waikiki.  The only Priceline hotel I know of in this zone is the Aqua Lotus Honolulu (Formerly The Lotus at Diamond Head).
If you're contemplating Priceline for your Hawaiian vacation, the Waikiki Hotel List is a good tool to help you decide what hotel you might be getting.  It is worth taking a look.  Also, I strongly recommend you check out the Hawaii Priceline Forum to discuss Priceline travel with other travelers.