Revealing Your Hotwire Hotel – As you probably know, when you book a hotel room on Hotwire, you don't find out the name of your hotel until after you have booked. Fortunately for travellers using this site, there is a way to have your Hotwire hotel revealed.  Hotwire has been around for well over a decade, and by now most people are familiar with the concept. You pay first (non-refundable) and then you find out what hotel you booked. Hotwire tells you certain information about a hotel such as the general vicinity, hotel rating, and the hotel amenities, but the actual name of the hotel is not revealed until after you pay.
Why does Hotwire not reveal the hotel name before you bid? Essentially, Hotwire sells off rooms for hotels that the hotel themselves cannot sell through direct bookings or other channels. Problem is that hotels want to sell off excess capacity, but they don't want to frustrate existing customers who reserved at higher rates. Instead, hotels use services like HW where the name is not revealed until after you buy. This is usually a win-win for everybody involved.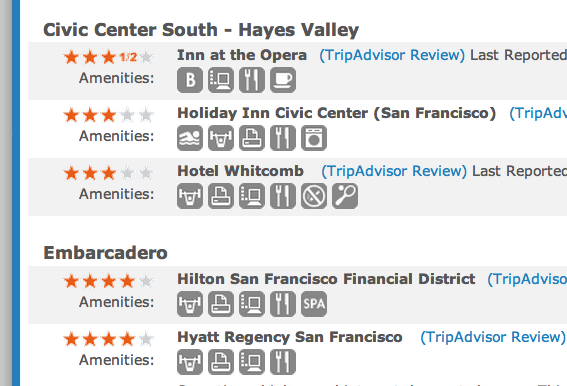 How To Reveal Your Hotel: Saving money is great, but some travellers simply are not comfortable booking a hotel only to save a few bucks (average discount is between 20% and 45%). That's where HotelDealsRevealed.com (this site) comes in. We can help you identify your Hotwire (in most cases) before you bid. Here is the 3 step process to having your Hotwire hotel revealed:
Go to Hotwire.com and select the location and dates you're interested in. Find the hotel you think looks great.
Now go to the hotel lists on this site, and look up the Hotwire city, bidding zone and star rating.
Simply compare the hotel amenities on Hotwire to those on the hotel list on this site. If you have a match (or close to one), there's a decent chance that's your hotel! Now all you need to do is book your hotel.
You might be thinking, "But wait, I thought Hotwire doesn't reveal the hotel name? They don't. The hotel lists on HotelDealsRevealed.com are compiled based on members of the Hotwire Forum who have graciously shared their Hotwire purchase information after their purchase. We then take that information and put it into the hotel lists that travellers use to help identify Hotwire hotel before pulling out their credit card. Thanks to the thousands of people who have contributed, we have compiled some pretty accurate lists.
How accurate are the Hotel Lists? It's best to use the lists as a guide and to not get too upset if you get a hotel other than the one you were expecting. We do our best to keep the hotel lists as up to date and accurate as possible, but it's not always easy because the lists are always changing. For example, a hotel might shut down it's swimming pool in the winter or cancel it's airport shuttle service. We also rely on contributions form Hotwire Forum members to provide the data that we use. Sometimes there are typos, mistakes, and quite simply bad data.
Want to help keep the lists up to date? The best way to help fellow travellers identify their Hotwire hotel is quite simple and it only takes about 5 minutes. Sign up to the Forum, then post your hotel purchase details. We'll then use that information to update the Hotwire hotel lists, which are viewed by several thousand travellers each and every day. Yes, your contribution does make a difference and is very much appreciated by fellow travellers.