Priceline has a unique feature called Name Your Own Price for booking hotels, flights and car rentals. If you're unfamiliar with Name Your Own Price, please read this great article that provides an general overview of Priceline before reading this page.
For hotel reservations using Name Your Own Price, one of the most common questions is: How long do you have to wait to rebid on priceline? You normally have to wait 24 hours if your Name Your Own Price bid is rejected. But there are a few exceptions that will allow you to rebid instantly. Here is a method that allows you to get instant rebids as many as 10 times! This allows you to become a better bidder: start low, and work your way up in price as you rebid.
The first thing you'll notice when bidding for hotels on Priceline is that Priceline breaks cities into many smaller areas. For instance, Las Vegas is broken into 12 different areas. This is important because Priceline will let you rebid instantly as long as you add another area to your bid. You might be thinking that if you add another area, won't you risk getting stuck with a hotel in an undesirable neighborhood? This can be avoided. The way around this is to add an area that does not have any hotels with the star rating (or better) you want. I will walk you through an example:
Priceline Rebidding - Step By Step
Step 1 - Determine Your Hotel Star Rating and Area: Suppose I want to stay at a high end hotel on the southern part of the Las Vegas Strip. Here is how to bid on priceline for five star hotel and get the maximum number of rebids. After entering my search parameters (city, travel dates) on Priceline's Name Your Own Price, I am shown a map of Las Vegas. Since I want to stay at a 5 star hotel in the south part of the Strip, I click on "Las Vegas Strip Vicinity South" and notice that 5 star hotels are available. Have a look at the screen shot below. The availability of a 5-star hotel is indicated by the 5 orange stars. Had a 5 star hotel not been available, the stars would gray. Do not start bidding just yet.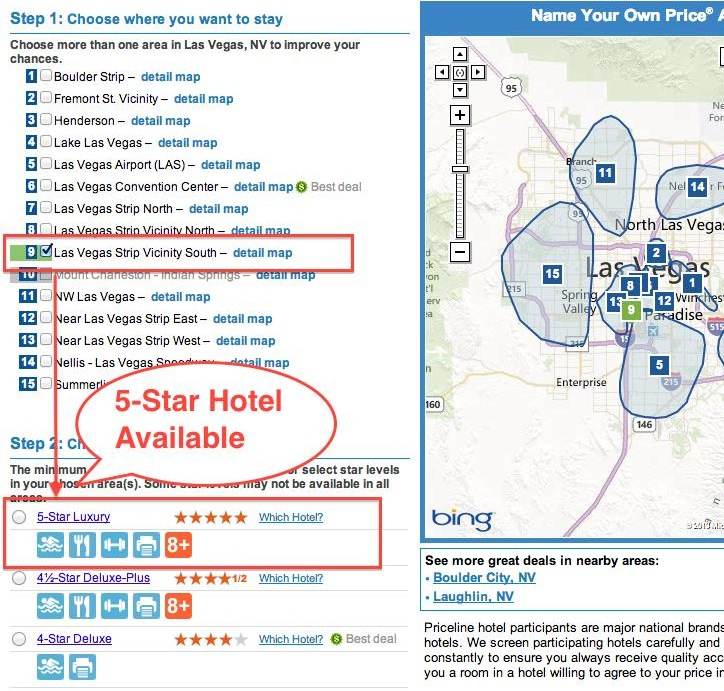 Step 2 - Find Other Areas That Do Not Have The Same Hotel Class (Or Better): Remember, if a bid is rejected, I can rebid immediately simply by adding another area. Since I only want to stay in the Las Vegas Strip South Vicinity, I must be careful to not add any area that has a 5 star (or better) hotel on my next bid. If I do, I run the risk of getting a hotel in an undesired location of Vegas. You can see from the screen shot below that Boulder Strip (my current selection as indicated by the check mark) does not have any hotels in the 5-star Luxury category (as indicated by the gray stars instead of orange).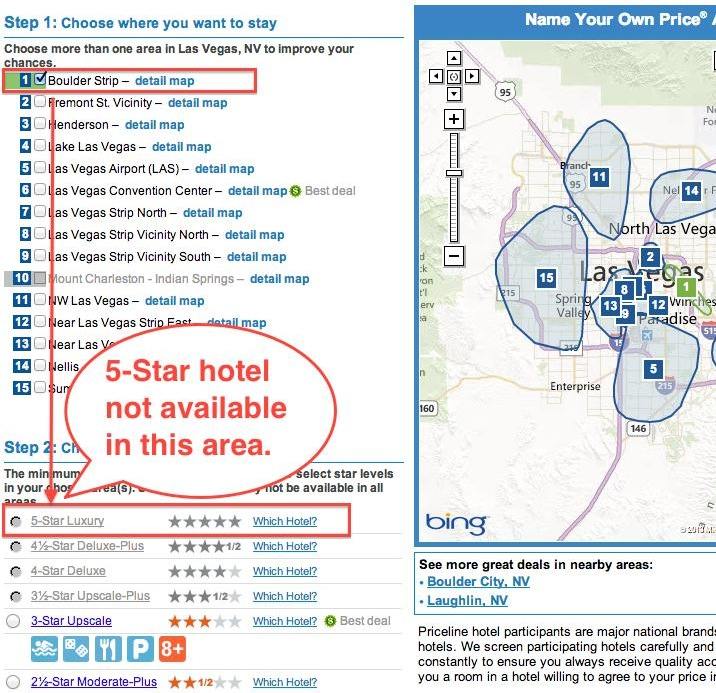 This is good. It means that I can add the Boulder Strip when rebidding on Priceline and not have to worry about getting a hotel in that area. Remember, just by adding a new area, I can rebid immediately.
After repeating this for each Las Vegas area, I determine that there are 8 areas in Las Vegas that do not have 5 star hotels or better, which will give me a total of 9 Priceline bids! Have a look at the screen shot below and note that I have 8 different areas of Las Vegas selected and none of these areas has a 5-star hotel for my travel dates. This is a bargain hunter's dream! Now I am finally ready to start bidding.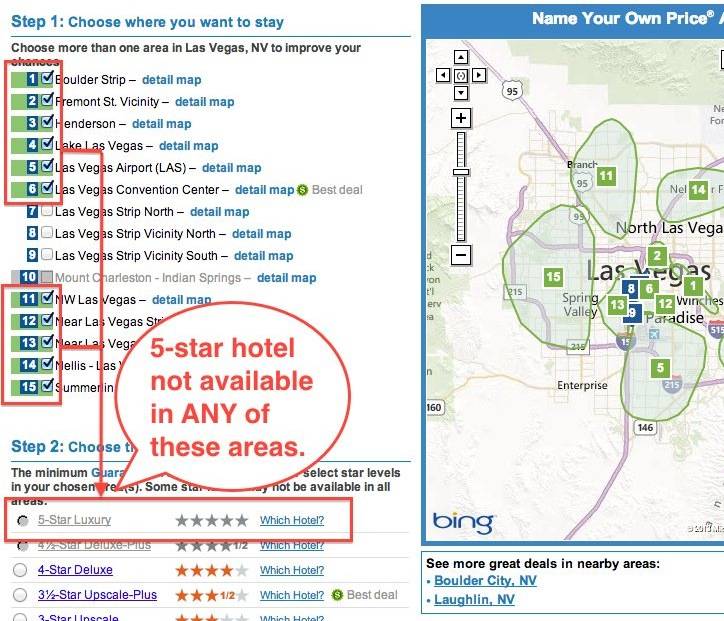 Step 3 - Place Your First Bid: Your first bid should only include the area you want to find a hotel. In my example, it is the Las Vegas Strip South Vicinity. If you are not sure how much to bid, I use a Priceline bidding method described here. The idea is to start bidding low and work your way up through a series of rebids until you reach your threshold or your bid is accepted.
Step 4 - Add A New Area and Rebid on Priceline: If your first Priceline bid is rejected, add an area that does not have a hotel with your desired star ranking, as identified in step 2. In my example, I would add Boulder Strip, increment my bidding price, and submit my bid.
Step 5 - Repeat Step 4: Repeat step 4 by adding an additional area identified in Step 2. Repeat this process until you have exhausted all areas that do not have a hotel with the desired star rating.
Final Thoughts: Rebidding on Priceline can be tricky, but can also save you money. I have been using this technique for a couple of years now, and it is quite helpful when reserving hotel. This process might seem complicated at first but after trying it once, it actually becomes easy. I will admit it is a bit cumbersome but it can also save you a lot of money! Just remember, the essence of rebidding on Priceline is to add new areas that do not have the hotel star rating (or better) that you want.
If you still need rebidding help, why not join the Priceline Forum and ask us to help guide you through the process. We are a group of Priceline enthusiasts that love to help fellow travellers save money.
Additional Priceline Resources