Use These 4 Steps to Identify Your Hotwire Hotel
One of the reasons many travelers love Hotwire so much is Hotwire lists hotel amenities before you purchase your hotel room. This is beneficial for two reasons. First, it allows travelers to ensure the hotel has the particular amenities they want. This is valuable information. Just ask anyone who reserved the Trump Towers in Las Vegas only to find out that the hotel does not have a casino; Or the family who reserved a hotel without a swimming pool; Or the business traveler who booked a hotel without internet access. All of these problems could have been avoided by using Hotwire over Priceline which does not list amenities.
More importnatly, the listing of hotel amenities allows travelers to identify a Hotwire hotel before making a reservation (with a little bit of work). This is really usefu. As many Hotwire user knows, it allows you to enjoy the benefits of both words: saving money on travel while identifying the name of your hotel in advance. Here are the step-by-step instructions on how to do so.
STEP 1: Visit HotelDealsRevealed.com's Hotwire Hotel Lists
HotelDealsRevealed.com has collected Hotwire hotel information thanks to Hotwire customers willing to share their purchase details. We have had several thousand Hotwire hotels reported throughout the US, Canada, and now many cities in Europe. The Hotwire Hotel Lists can be searched by state or province, and city. The result is a list of hotels sorted by area and hotel star rating. Here is an examle - a partial Hotwire hotel list for Las Vegas, Nevada. Again, hotel lists are available for most major cities in the United States and Canada and we have expanded to include Mexico, Carribean, and Europe.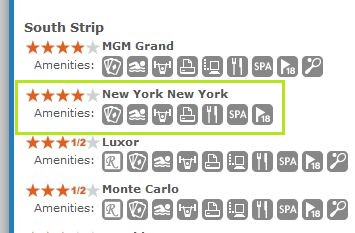 STEP 2: Search Hotwire For Your Hotel
Click on the Hotwire link provided (right hand side of this page) to search for your Hotwire hotel. You will need to provide Hotwire with the city you want to stay and your travel dates. Hotwire will return a list of available hotels, price, star level, hotel area, and the hotel amenities, as shown here. Look for a hotel that you are interested in booking and make not the details Hotwire has provided about the hotel.
STEP 3: Compare Hotel Amenities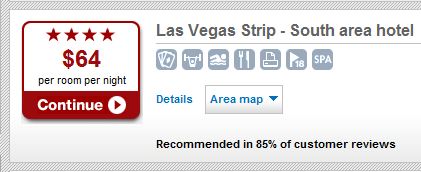 In this example, the Hotwire hotel shown here matches the New York New York Hotel in Las Vegas on the HotelDealsRevealed hotel list. The star rating, city, area and hotel amenities are a perfect match. There is a very good chance the 'unknown' Hotwire hotel is, in fact, New York New York.
It is worth noting that this process for how to reveal a Hotwire hotel is not entirely accurate all the time. The hotel information provided on the hotel lists are generated from fellow travelers like you, and as a result, they may not be complete, comprehensive, or accurate. There is no guarantee, and remember that Hotwire hotel reservations made this way are non-refundable. It is best to be prepared to get a different hotel than the one you were expecting. If you want additional help revealing your hotel, you can post a question on the Hotwire Forum and we will take a look. Usually we can narrow it down to a few likely hotels that you will probably get.
STEP 4: Post Your Hotwire Purchase Details
Most of the information shared on this site is from Hotwire customers like yourself. If the information on this site was helpful to you, why not take a moment to share your Hotwire reservation details. You will help contribute to a better bidding community and improve the accuracy of the hotel lists. Most importantly, you will be helping fellow travelers to identify their Hotwire hotel. Just sign up to the Hotwire forum and post your reservation details. It is easy, quick, and good karma!
More Hotwire Resources